Welcome from the Head of Lower School
Hello to our new Year 7 students,
I would like to warmly welcome you to Herne Bay High School. We are looking forward to you starting with us in September.
Coming up to Year 7 and joining a new school is exciting, but can also make us feel a little nervous. We hope to make the experience as enjoyable as possible.
This year, we will be able to meet you before the summer when you join us for our Year 6 Induction days on the 6th and 7th of July. On these days, you need to arrive in your primary school uniform and wear trainers. We have lots of activities planned for you to experience as part of our wonderful school.
Your first day of school is Tuesday 5th of September. In the morning, there will be lots of teachers on the gates ready to welcome you in and help you find where you need to get to. You might be feeling nervous about getting lost or not knowing things – we are all here to help you. All you need to remember is that you need to wear your full school uniform, bring your bag with your pencil case in and a positive attitude ready to be kind, respectful and dedicated to your learning.
On your first day, you will meet your mentor and some of your teachers. Your mentor is a teacher who will help you settle in. Each day begins and ends with mentor time and your mentor will be able to answer any questions you have – there is no such thing as a silly question so ask us anything you need to know. Your mentor will also do the register and there will be different activities to take part in each morning. You will make new friends in your mentor group and classes for lessons.
Also on your first day, you will have a tour of the school with your mentor so that you know where to go if you need help. Mrs Giles is the year manager for year 7 and will help you settle in. You will be shown the lower school office where you can speak with members of the lower school team.
You might find it strange at first as lessons here will be different to your lessons at primary school although you will recognise lots of the same subjects. Here, you will move around to different, specialist teachers and have your lessons in different rooms. You might worry about getting lost during the day but please remember that everyone gets lost – this is a normal part of starting a new school and there will be lots of teachers around to help direct you. All you need to do is remember all the equipment you need for your lessons and try to be as dedicated as possible to your learning, including to your homework!
At Herne Bay High School, you will work hard at your studies, but we are also a community where you will be able to make new friends, discover new skills and have access to lots of different opportunities so that you can enjoy every day as a member of our school.
I am very much looking forward to meeting you soon!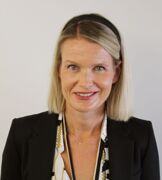 Mrs Jones
Vice Principal