21 Jun
We would firstly like to say what a privilege it has been to be part of the senior team of 2022-2023. As a team, we (Maddie Morters and Ben Wilson, (Head Students) Skye Vurnum, Tom Self and Frankie Ensor (Deputy Head Students)) have grown greatly, but we have also grown as individuals. This time last year, we stepped into the roles of head and deputy head students and were honoured to do so. It has been such an amazing adventure that we are all so grateful to have been part of.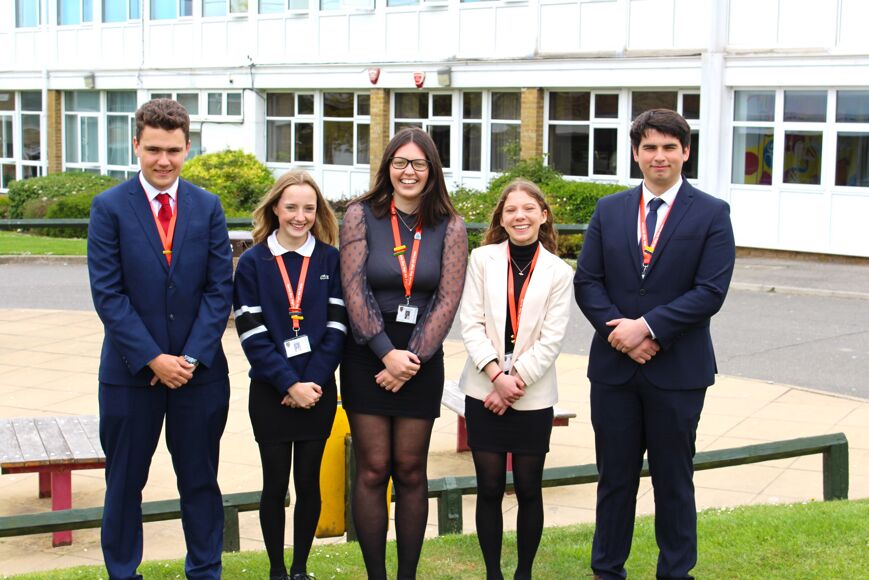 In the infancy of our time as a senior team, we were tasked with organising a charity event to raise funds to aid Ukraine. With little notice to put a plan in place, we came together, working alongside the student forum and senior prefects, to create ideas of what we could do as a school. We soon held a cake sale which was a great success. Being very ambitious we did not stop there, we wanted to raise as much money as we could, so we washed all the school minibuses. It would not have been possible without the help from our amazing senior prefects, the unseen backbone to everything we do.
Our next task: welcoming parents and future students to our school during open evening. As a team, we took pride in representing the face of our school as we welcomed newcomers into our amazing school. To showcase the very best of what our school has to offer, we filmed an array of videos where we shared our experiences of Herne Bay High, ranging from year seven through to the present year, a nostalgic trip down memory lane. We also shared our future plans as well as the advice we wish we could give to our younger selves, including the things we have learned along the way.
With local events now taking place face-to-face, we were able to follow in the footsteps of previous senior students by attending the Remembrance Day Service and Parade in Herne Bay. We were joined by other HBH students representing local groups including Scouts, Guides and Herne Bay Cadets, as they participated in the parade and wreath laying alongside us.
A significant responsibility that comes with the role of being part of the senior team means listening to the student body and taking action on their proposed ideas. By not only being part of the student forum, but also chairing these meetings, enabled us to fulfil this duty. As a community of students, we have helped to make small changes around the school, some of which are quietly happening behind the scenes. One key change we have helped to make is involving our school with the wider community. We arranged a visit to the Miramar Care Home in Beltinge, where we were able to go and hear some amazing stories from the residents there. We hope these visits can continue as it was a really enjoyable experience for all!
To ensure action was truly taken, we met with Mr Boyes on a number of occasions to share with him the concerns of our students, empowering those who were part of the student forum but showing them that their voices are heard. We chose unanimous suggestions, concerns that we felt were clearly showed by the majority of the student body and voiced the concerns of our peers. We also shared the successes and the things students felt were going well which is equally important.
One thing we are certain and is something that will always pop up, is that change does not happen overnight. Change is a process and takes time, but this does not mean that change cannot and will not happen. Our farewell message to students is, if you are passionate about something, do not stop fighting for it, because one small action really can lead to a big change, even if it is not immediately obvious.
One of our very last duties as head students was to support Mr Boyes in appointing the new senior student team; the students whom we could proudly pass on our titles to. This year we were amazed at how many applicants we received, 15 phenomenal individuals, each of whom exert personal qualities which will lead them to do great things in the future. It took much deliberation to decide who would take on these roles. We are delighted to welcome the new senior student team: Martha, Luke, Grace, Brooke and Arthur. Huge congratulations to you all we wish you the very best of luck for the coming year, we hope you enjoy this journey.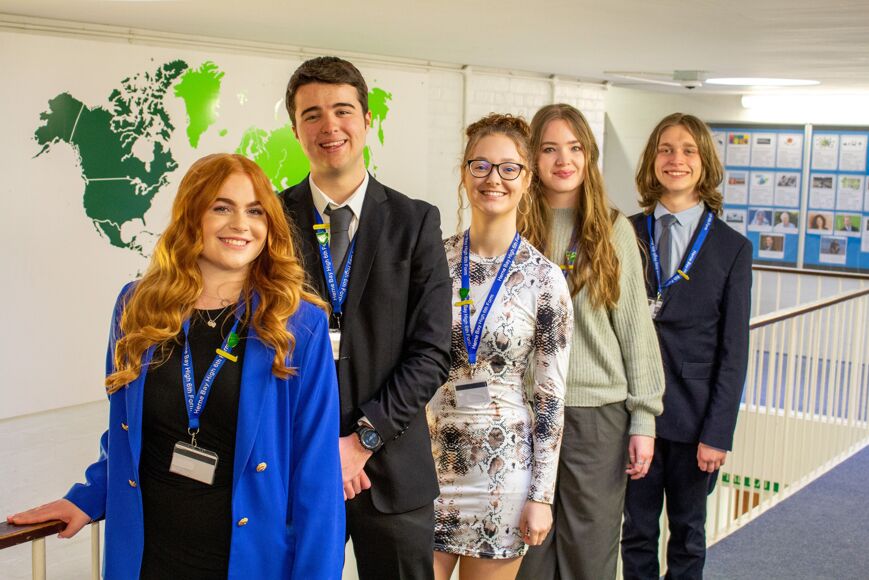 To complete our roles as head and deputy head students, we will be hosting the Year 13 Prom on 23rd June. We look forward to welcoming over 100 students and teachers to enjoy a Great Gatsby themed night (as voted by our very own students). It will certainly be a night to remember.
To conclude our farewell, we would like to give thanks to all those who have helped and supported us in our roles. Firstly, Rob Buchanan. We would like to thank you for your continued support with the planning and preparation behind the events and helping us to make positive changes to our school. Thank you to Mrs Godden for your Friday 'catch-ups' and for supporting us with making changes within our sixth form bubble. Thank you to Mrs Wrigley and Mr Boyes for giving us this opportunity and for your support along the way. And last but not least thank you students from all years, without you much of what we have achieved would not have been possible.