28 Apr
We were delighted to welcome Lena from St Hughes College Oxford and her support team into school today. Lena spoke with a mixture of Year 7, 8 and 9 students about dedication and resilience and having a goal to do whatever you want to do in life.
Lena, literally ran into school as part of the Kent Coast Run. Lena left Margate at 5am this morning to run a ½ marathon before speaking to our students. She left us to then run on to Whitstable and Canterbury. We were in awe of her achievement and dedication. Well done Lena.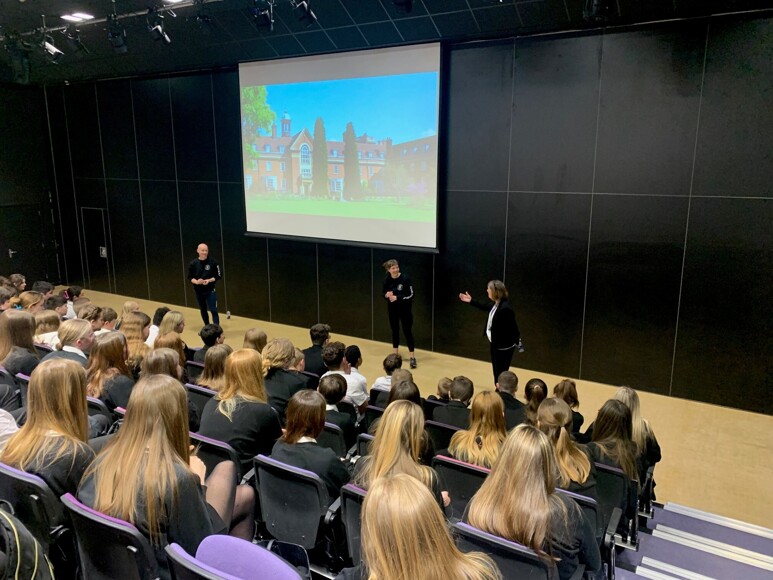 About the project: The Kent Coast Run 2023 is a continuation of a St Hugh's College outreach project run for the first time in Summer 2019. The St Hugh's College Outreach Officer ran along the Kentish coast, stopping to give inspirational talks at local state schools to promote access to Higher Education, aiming high, and the benefits of a well-balanced lifestyle. This was a 140km route, run over five days; they visited 13 schools, spoke to 656 pupils, and went through 22 towns and villages.
The 2023 edition is an even more ambitious endeavour, beginning on 24th April with talks in New Romney, and finishing in Canterbury on 28th April. The new route is longer and more challenging than the last, with more stops along the way. In addition, for some of the talks, the Outreach Officer will be joined by Student Ambassadors and St Hugh's College academics. The on-the-ground support team will consist of their Admissions Coordinator and one of their IT Officers, who will also be very happy to answer questions about the College! More information about the 2023 edition of the Coast run (affectionately known as 'Kent Coast Run Volume 2') can be found on their website: Kent Coast Run 2023 - St Hugh's College (ox.ac.uk)